In the wild, there are many animals that need to have at least one companion of the same species to feel good. As is the case with rabbits or parrots. However, with regard to dogs, this is not necessary, since you, as the owner of the dog, fulfill that function. However, this situation does not prevent you from having two or more dogs at home. There are even many advantages of having two pets in your home, for example, your furry will always have someone to play with. But before acquiring another pet you must take into account the responsibilities that come with having two or more dogs at home. In this article we are going to present some important factors that you should consider for when you decide to have more than one dog.
Possible risks of having two dogs at home
Introducing a new dog at home can have some consequences. For example, if your first dog had an attachment problem, it could intensify; because, once the dogs have established their pack, a very strong bond is created between them. In this case, your dog considers you and your family as part of its pack; therefore, when a new pet comes home, your dog may see it as an invader or a threat and it will take a while to accept it.
On the other hand, you should know that dogs learn from each other, and not only positive behaviors, but also negative behaviors. If you have a dog that is a little naughty and you hope that, thanks to the second, disobedient behaviors will end and training will be easier; you should know that it is unlikely. On the contrary, bad behaviors can double. For this reason, we recommend that before bringing a second dog into your home, you are sure that the first is well trained and has learned to socialize correctly with other animals. In this way, it will be a little easier to adapt between both specimens.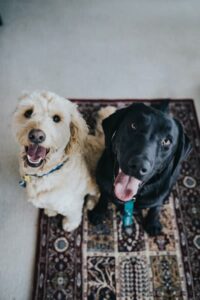 You should also keep in mind that having two dogs can change several family habits. For that reason, it is important that before having two or more dogs at home, you ask yourself the following questions: can the person who takes care of them while you are away take care of another animal?, Can you take several dogs with you on a trip?, Do you have enough space to take them in your car? And do not forget another important aspect: having another dog implies a greater expense in food, visits to the veterinarian, and so on.
How to choose the best companion for your dog?
As with people, the best companion for a dog is one with which there is chemistry. However, a smart choice increases the odds of getting the perfect team. Think that the new puppy will follow in the footsteps of the first.
For example, if your first dog tends to be fearful, this condition can be passed on to the new puppy. However, sometimes, it may be that the first dog is the one who learns from the newcomer. That is, if the second dog is a sociable and self-confident animal, it can provide the security that the first dog lacks. The fundamental thing is that both dogs have a similar character so that they interact in the best possible way.
If you buy a new puppy, allow the breeder to advise you; he will know which breed and character are most compatible with your dog. Puppies that come to a family with a dog are usually more docile, which allows a better adaptation between both specimens.
Other factors to consider if you want to have two dogs at home.
If you're looking for a second dog, gender can be a determining factor. If you prefer a male and a female, you have to keep in mind that twice a year, during heat, you will have to keep them separated for a few days; another option is to sterilize one or both animals. In this sense, it is easier for the two to be of the same sex, although we must not forget that often males and females can create a better relationship. In addition, a young male who arrives at a house where there is an older female, usually accepts the hierarchy better.
How to introduce a new dog into the family?
Not all dogs welcome a new companion, many see it as an invader of their territory and seem to want it to vanish as soon as possible. However, your old friend should remain the center of attention; greet him first, put the food first on his plate and offer him the toys and rest space first. That way, you won't feel threatened. If you're having guests, let them know to greet the older dog first before the newly arrived puppy. You must be the first to accept the established hierarchy, because showing preference for the new member can generate conflicts.
Training of two dogs at home.
When you have two or more dogs at home, training is time-consuming, starting with walks. In no case do you start going out with the two animals. The first months, you should go for a walk only with your new puppy, in order for him to acquire the basic notions of obedience and to create a bond with your pet. Only when you've made progress, you can go out with your two furry friends. During training sessions, you should not leave out your usual partner, so, at first, the time you spend on training can double.
If you have several dogs, there is no problem with using the same "sitting" or "still" indications. However, start practicing these exercises with a dog at a time, until they have it well internalized and you have established a good connection and communication through eye contact and call by name. In the end, you can do the exercises with two dogs at the same time or even with three.
These were some interesting tips that you can take into account if you decide to have two or more dogs at home.