Dogs are known for their strong bond with their owners. And it's not uncommon for them to display strong emotions when reunited with their loved ones. One of the ways that dogs express their emotions is through crying. In recent years, there have been a number of studies that have investigated this phenomenon. And have found that dogs cry more when reunited with their owners.
Understanding the emotional bond between humans and dogs
A study by Takefumi Kikusui of Azabu University in Japan found that dogs shed tears associated with positive emotions. They also discovered that oxytocin (the love hormone) could increase tears in dogs.
Kikusui got the idea for this study when he discovered that one of his dogs. A poodle, gave birth to puppies, and he noticed tears in his dog's eyes when she nursed her puppies.
So Kikusui and his colleagues decided to perform the following experiment. First, they used a standard test to measure the volume of tears in dogs before and after meeting their owners. They found that the volume of tears increased when they were back with the familiar human and not with a person they didn't know.
When they added oxytocin to the dogs' eyes, the volume of their tears also increased. That finding supports the idea that oxytocin release plays a role in tear production when dogs and their people get back together.
They also asked people to rate pictures of dog faces with and without artificial tears, and it turned out that people gave more positive responses when they saw dogs with teary eyes. These findings suggest that dogs' tear production helps forge stronger connections between people and their dogs.
In this case, it appears that dogs produce tears in situations that humans would consider "happy." They have not yet tested whether dogs also produce tears in response to negative emotions. The dogs also don't yet know if dogs cry when around other dogs. They hope to find out if this response also has a social function in the canine world. But for now, they say it appears to have clear implications for the dog-human bond.
Dogs Cry More When Reunited with Their Owners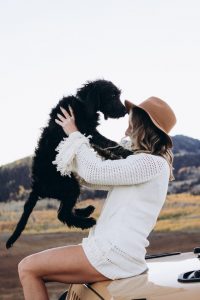 Another study, conducted by researchers at the University of London, found that dogs display a significant increase in crying behavior when reunited with their owners after a period of separation. The study involved observing the crying behavior of dogs that were separated from their owners for varying periods of time, from a few minutes to several hours. The researchers found that the longer the separation period, the more likely the dog was to cry when reunited.
Dogs are highly social animals and have evolved to form strong emotional connections with their pack members. When separated from their owners, they may experience feelings of anxiety, fear, and sadness. When they are reunited with their owners, these emotions can be released in the form of crying.
Another theory says that crying may be a way for dogs to communicate their emotional state to their owners. Dogs do not have the ability to express themselves verbally like humans, so they use other forms of communication to express their emotions. Crying can be a way dogs communicate that they are happy, sad, or anxious.
In any case, it is clear that dogs do cry more when they are reunited with their owners. This is a testament to the strong emotional bond dogs have with their owners and the powerful impact this bond can have on their emotional well-being.
In conclusion.
The dogs are known for their strong emotional bond with their owners and crying is one of the ways they express their emotions. Studies have found that dogs cry more when reunited with their owners after a period of separation, which is thought to be related to the emotional bond between dog and owner.