If you're reading this, you're probably considering training your furry friend to become a therapy dog. Or you're just curious about what it takes to turn a dog into a therapy dog. In any case, you have come to the right place.
In this blog post, I will walk you through the therapy dog training process step by step. We'll start with the basics of what therapy dog training is, move on to the importance of socialization, and then dive into the specific training techniques that will help turn your dog into a therapy dog.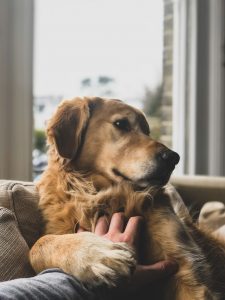 First step
First things first, what is therapy dog training? Therapy dog training is the process of teaching a dog specific behaviors and tasks that will allow it to provide comfort and emotional support to people in a variety of settings, such as hospitals, nursing homes, schools, and more. Therapy dogs can also help people who have mental health issues, such as anxiety or depression.
It is important that you know that the best training of a dog in any field is the one that resorts to positive reinforcement. In other words, it's about rewarding the dog when it gives the answer you expect. Do not retaliate, if the dog does not behave as you want and you decide to ignore it or yell at him, you will only get the dog to be afraid or to perceive learning as something harmful.
The importance of socialization in therapy dog training
One of the most important aspects of therapy dog training is socialization. A well-socialized dog is more likely to be comfortable with people and other animals, which is essential when working in therapy settings. Before you start training your dog to be a therapy dog, make sure he is well socialized. This includes exposing them to different environments, people and animals. Take them to the park, neighborhood walk, or dog park. In this way you will prevent the dog from having outbursts of anger or being frightened by other dogs, other people or objects that can be found outside.
Basic Obedience Training for Therapy Dogs
Before diving into therapy-specific training, your dog should have a solid foundation in basic obedience commands. This includes sitting, staying, coming, and heeling. Even the dog must already be trained to urinate and defecate in a certain place. Basic obedience training is essential for therapy dogs as it helps them follow commands and stay focused during therapy sessions.
If the dog does not know these commands it will not be possible to continue with the training so that it becomes a therapy dog. It will be like wanting to build a building without load-bearing walls. It's simply not possible!
Therapy-specific training techniques
Once your dog has a good understanding of basic obedience commands, it's time to start training him for specific tasks that will be beneficial during therapy sessions. This could include learning to offer comfort, sitting still and being petted, reaching for objects, or providing deep pressure therapy. Training should be done in a positive and patient manner.
Behavioral Training for Therapy Dogs
In addition to specific therapy training, it is important to train your dog to behave calmly and well-behaved, even in stressful or unfamiliar situations. This is important because therapy dogs can encounter many different people, animals, and situations. Behavioral training can help them ignore distractions and stay focused on their task.
Evaluation and Certification for Therapy Dogs
Once your dog has completed specific training for therapy and behavioral training. It should be evaluated by a professional organization to ensure it meets the standards for therapy dogs. There are many professional organizations that certify therapy dogs, and having a certification can open up more opportunities for your dog to provide therapy.
Ongoing Training and Maintenance for Therapy Dogs
Therapy dog training is an ongoing process, and it is important to keep up with regular training and evaluation to maintain certification of a therapy dog. This will help ensure that the dog behaves well, concentrates and is able to provide effective therapy to his patients. It is also important to make sure that the dog is healthy and happy, as this will make him a better therapy dog.
In conclusion,
Training a dog to be a therapy dog is a rewarding experience for both you and your furry friend. It takes patience, dedication and a lot of training, but the results are worth it. If you are interested in training your dog I recommend working with a professional trainer and following the steps outlined in this post.