Surely you have seen this beautiful puppy with short legs and with quite long ears. Today we are going to tell you several curiosities of the Basset Hound, a breed of dog whose appearance in this world is relatively recent. So you may know, if this beautiful dog is ideal for you, do not forget to read this article.
Origins of the Basset Hound
The origin of this dog has been disputed for many years between Great Britain and the United States. However, the selection of this breed was first made in France and during the nineteenth century it was imported by England; and in 1883 it was officially recognized by the English Canine Club.
As soon as they discovered it in the United States they took control of the selection of the breed, and that is why they currently pretend that their nationality is American. Today the breed is defined as anglo-American hybrid, although the last standard is of English origin and dates from 1977.
The Basset Hound derives from the cross between French hunting dogs and the Bloodhound dog. Similarly, among their ancestors there are also dwarf dogs, which have short limbs but the rest of the "normal" body Among the dwarf dogs from which the Basset Hound derives, we can mention the Basset of Artois and the Normand, today both known as the Artesian Basset of Normandy
Characteristics of the Basset Hound
Another of the curiosities of the Basset hound is its physical appearance; it has a short stature, which does not exceed between 33 and 38 centimeters. But despite its short stature, it can reach a weight of 30 kilograms due to its prominent bone structure.
The Basset houn has a short, thin snout and ends with a completely black truffle-shaped nose. Except for specimens with a light-colored mantle, which may have a brown or purplish-red nose).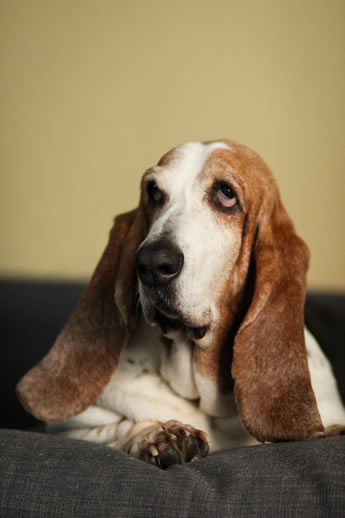 You should know that this breed of dog has an extraordinary sense of smell, a skill that hunters use to scare away foxes, hares and pheasants from their hiding places.
In addition to its short stature, which we talked about earlier, the Basset Hound is also famous for its long ears, a physical characteristic that allows it to perceive certain stimuli in an excellent way. His eyes are brown, and they give him a naïve expression. As for its fur, it is smooth and short. Its color may vary according to the following shades.
Tricolor (black, fire and white),
White and brown,
Lemon and white,
Black and brown,
Black and White,
Red-white.
Basset Hound character
As for the character of the Basset Hound, we can say that it is an extremely calm and patient breed. He is an affectionate dog, loves to play with all family members and especially with children; it is an ideal companion dog.
However, it is a very tenacious and above all stubborn animal: if an idea gets into its head, you can hardly make it change its mind. But we must also say that, the Basset Hound is a very devoted dog and attached to its owner: it is really a fantastic companion, who loves to take long walks, or be on the sofa accompanied by his human friend.
Basset Hound Health.
This breed has an average life expectancy of about 12 years. Certainly, during its existence it can face several health problems: among the pathologies that most affect this breed of dogs include, dislocation of the patella, progressive retinal atrophy, epilepsy, elbow dysplasia, hemorrhagic diseases, glaucoma, hypothyroidism, Von Willebrand disease and problems of the spine.
Note: If your Basset Hound constantly scratches its ears, it's best to consult your veterinarian. You may have an ear infection, which is very common in this breed; for that reason, you need to clean their ears constantly; at least once a week.
Price of the Basset Hound.
The price of a Basset Hound puppy is around $800, but some specimens can easily reach $1,100. If you have already decided to acquire a dog of this breed, we recommend you go with certified breeders; and always remember to ask for the pedigree, which is fundamental, since it allows to check the purity of the dog's breed.
Now that we have told the curiosities of the Basset Hound, you can go in search of your new 4-legged friend, who is surely waiting for you.