Tips for traveling with your pet and preparing the puppy suitcase. Holiday? A weekend getaway? A lightning ride? If our goal is to go on a trip with our dog, we should take into account some details that will avoid unpleasant surprises. It is recommended, whenever possible, to plan the trip in advance. And take into account your special needs and the limitations we may encounter in some cases. Notes.
Not all destinations are pet friendly. Although it can be difficult to separate from him, the first thought you have to make is if your furry friend will be better off with you, or if the trip can cause stress on your dog. If you have already decided that your dog will accompany you on that adventure. Then you should think of a place where your dog has fun in the same way that you will. Find out in advance about the facilities you will find on arrival. If there are areas where your dog will be able to run freely; what kind of restrictions exist, whether the weather will be right, et cetera.
For that reason, we present these tips for traveling with your pet that will surely be of great help when organizing your trip.
One of the important points that you should take into account, when traveling with your dog is the means of transport, because this issue will depend on several decisions that you must make.
By car:
If your means of transport will be by car, we recommend that you use a cage that can guarantee the safety of your puppy, and even your own safety, mainly in the event of an accident. In addition, if you travel abroad, many countries require animals to be transported in this way, then you must follow this rule to avoid a fine.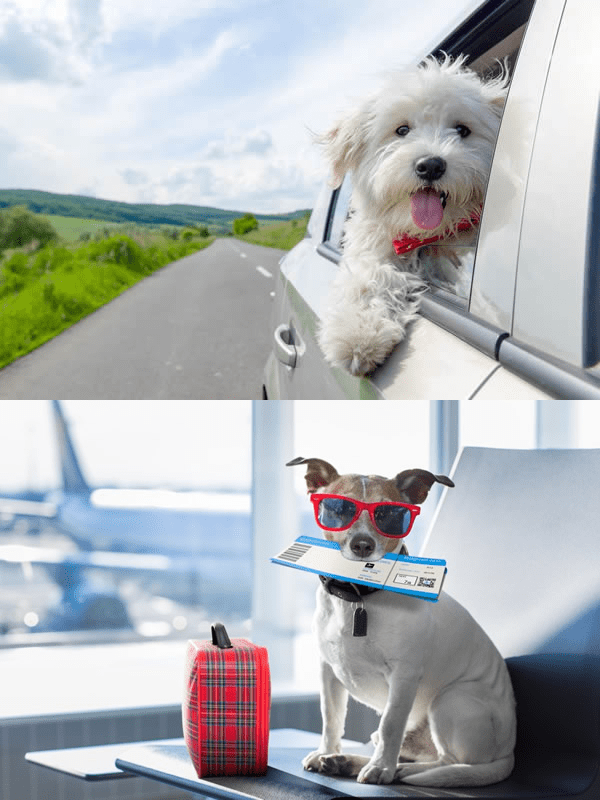 If you choose not to use the cage, we suggest you take your pet in the back seat. A good idea is to cover the back seat with a blanket or cloth to protect it and be more comfortable. Even place a mesh that divides the front of the rear of the car. This in case they suffer an accident, your dog does not fly through the windshield. Don't forget to open the window a little so that air comes in during the trip.
Try not to feed your dog two hours before you leave, or when the car is on the move. As it may get dizzy and vomit or feel very bad.
Remember that even if you haven't ingested food, it's good to stop at the bathroom from time to time.
By plane:
In this case, if your trip will be by plane, you should review the airline's policy. As the rules change by company. Any animal must register in advance.
A health certificate and appropriate cage are also required according to their weight and size. Which will have to be ventilated and leak-proof. If you have a dog or small cat, it can fly with you as carry-on baggage. As long as it does not leave the cage and does not exceed the assigned weight according to the type of aircraft.
By boat:
You've chosen the ship as a means of transport to travel. The first thing we recommend is that you be aware of existing options. And contact the shipping company to learn more about their policies. As with air travel, there is no general regulation regarding the transfer of pets by boat.
Each company sets its own restrictions, this depending on the length of the journey and the number of passengers.
Generally speaking, you will need to make a prior reservation and purchase a boarding pass for your dog.
During boarding and disembarkation, your dog must be tied and muzzled, regardless of whether it does not belong to a breed considered potentially dangerous. The general regulations stipulate that, at the time of disembarkation, passengers travelling with a dog will be the last to leave the boat.
By train
Finally, if your option will be to make the train journey. It is advisable to check the conditions of transport of the railway company before getting in the car with your quadrupedal. In many companies they can offer you interesting discounts on your dog's ticket. There is even a possibility that your dog may travel for free or pay only 10% of the total cost of the ticket, only if they follow certain conditions.
During the journey to your destination.
If your dog is constantly dizzy when transportation is on the move, we recommend that you first visit the vet. To recommend a product that mitigates the effects of dizziness and allows you to take a trip in better conditions.
Remember that it is preferable that you start the journey on a completely or partially empty stomach. So in addition to being careful with the food, you should make sure that you perform your needs before departure. To make the journey more bearable, in addition to water that keeps you hydrated, leave him a stuffed doll with which he feels most accompanied.
If you need to bill your pet, wait at the last minute and avoid separation scenes that can increase its stress. Of course, identify your carrier with your perfectly visible data.
The accommodation:
As with any sightseeing trip, researching the hotel first is advisable to make sure they accept pets. Some even offer services as caregivers. In order not to disturb other guests with barking or bad behavior, it is important that they exercise to appease the contained energy. Don't forget to make your reservation at the hotel in advance.
Already in fate.
You've overcome the journey and you've reached your destination. Help your furry friend get acquainted with the environment. Keep in mind that, for him, it's a strange place, which can cause him fear and mistrust. Go to the property first and follow the guidelines.
Other small tips (Tips for traveling with your pet)
Take our pet to the hairdresser, if necessary
Many dogs may need a good haircut and a bath, especially those with dense, thick fur. It will make them feel more comfortable and they will be clean and perfect to embark on the journey.
Take them for a walk and play with them before going on a trip
No longer only for dogs to do their needs, but to make them more relaxed at the time of travel as well. If it's a cat, play with it a little earlier to make the journey calmer and more tired (so you can even sleep).
If your pet is very nervous, ask the veterinarian for a few drops of pet valerian. Or something natural that can relax them along the way.
Do not put the music at full volume if we go by car (especially if we go with a cat) as it can stress you a lot.
Do not leave our pets alone in the car and leave. Except without opening windows and less in summer. It can have terrible consequences.
Any questions or concerns with your pet, do not hesitate to consult or go to the veterinarian as soon as possible.
Once we've told you the most important tips to consider when planning a trip in your dog's company. Now it's time to tell you how you can prepare the dog luggage
What to wear in the puppy suitcase. Tips for traveling with your pet.
Once you've covered the above points, it's time to talk about the dog luggage. Therefore, I wanted to show you a list of dog accessories, essential to travel with your pet, So that when preparing the dog suitcase be a quick and easy task
Accessories that can't be missing in the dog suitcase.
Canine Passport.
Some European countries it is essential that your dog has its own passport so that it can travel to any destination within that continent.
Health Certificate
Keep a medical certificate from your pet stating that you are in good health.
It must be issued by a veterinarian. The pet must have their vaccinations up to date and must have done a full checkup to see that they are able to travel.
Belt
There are many types of straps, but for travel, we recommend that you wear two. A flexi strap that lengthens up to 5 meters and gives your dog a lot of freedom. And a nylon strap that doesn't stretch, to walk around town and have your pet more controlled.
Poop bags
Impossible to travel without them! These bags are a must, anywhere. You have to be civic and not dirty streets and parks with the poop of our dogs. This will reduce people's prejudices and we can get in with our songs in more places.
Dog transport
It is very important that from a young child, your dog gets used to using the dog transport, which is a place where you will feel safe and protected. This way, every time you need to put him in, he'll want to come in just because it'll mean you're taking him with you.
There are several types of Dog Transports. Here are several options.
Hard plastic dog transport
This is a versatile option because it is very light. There are also plastic dog carriers with wheels that will make it much easier to take the dog back and forth. This type of dog carrier fits several spaces as it comes in various sizes. It is ideal for medium and large breeds.
Dog bag.
This dog carrier stands out for being extremely comfortable. It comes padded inside and has vents. One of its advantages is that it allows you to always be close to your pet. Because it is worn just like a bag, this carrier is designed only for small breeds.
Dog backpacks
This option is made with the same material as the baby carriers (fabric and foam rubber). The backpack is versatile, due to its small size can be carried on the shoulder or in the hands. Likewise, it is only used to carry small dogs.
Trolley.
Better known as wheeled carrier. This one is very useful, it allows you to carry the dog in a much more comfortable way since you will not have to bear its weight. It is the best solution to travel long distances.
Folding dog carriers.
This product is useful for large dogs. This allows you to disassemble each of its parts and store it easily.
Food
Depending on whether you're on a weekend getaway or a long trip, the amount of food will vary. Maybe if it's a trip of more than a week, don't be compensated to bring him the food and it's better to buy it at the destination.
My recommendation is that you always bring some food for the first two days. To calculate the quantities, I weigh the food and make packages that I carry in the bag or backpack. So I know I'm giving you the right amount of food.
First aid kit.
It's very rare for your dog to suffer from some mishap, but it's never too bad that you consider carrying a first aid kit in your luggage for your furry best friend. Here are some basic items this first aid kit should have.
Gauze
Betadine (always dilute with water before applying)
Vaseline (if you damage the pads or if you walk a lot and notice some cracks in your legs.
Serum (a basic in case something gets into your eye or to clean delicate areas)
Pipette
Antiparasitic necklace
Thermometer (remember that a normal temperature of a dog is about 38 degrees)
Objects that will make your journey easier
Wet wipes
Wet wipes are very useful, in case your dog gets dirty with dirt or puddles. They also serve to clean your furry friend's ears.
Plastic folding bowl
It is one of the travel accessories for dogs that can not be missing in your pet's suitcase. You can use it for food and water. It doesn't bulk up and folds, so you can take it anywhere.
Small or folding towel
If your dog is one of those who loves to bathe on the beach or just wants a comfortable place to lie down, the towel is a basic item.
Doll/ball/toy
When traveling with your dog, you need to bring some of his toys, not only to play with him, but to make him feel at home and have his things in case you have to leave him alone for a while. There are some toys where you can put food in them and the dog will be entertained for a while.
Carpet Car Blanket
A perfect accessory to travel by car with your dog. A waterproof blanket carpet that will allow your pet to go very comfortable and also the car is protected.
Some blankets can be hooked between the front and rear seats, forming a hammock, preventing the dog from bothering you while driving
Brush
One thing that usually lazinessses and is always "forgotten" is brushing our dog friend.
Even though they are on vacation, you should not stop brushing your dog, this is important: in summer to remove excess hair and in winter to move the fur well.
Coat
If you travel to a destination where you know it's going to be cold or you travel in winter, and especially if your dog is small or has short hair, it's important to wear a waterproof coat so it doesn't get cold and to protect it from the rain.
Backpack bag
This accessory is perfect for large dogs. Your pet will feel useful and have a good time with the backpack, while exercising its muscles. Keep small items inside the backpack, such as your prizes, some toy, a small bottle of water.
It comes in great for excursions to the countryside or for hiking in the mountains.
These were the best tips for traveling with your pet and preparing the puppy suitcase.- puppy suitcase. Now if you are ready to live an unforgettable experience on your next trip.
Tips for traveling with your pet.