Tips for your dog to lose weight.  We know that having a dog, a dog at home, gives us numerous benefits. But it also means accepting great responsibility. And an important aspect is to take care of the weight of your pet; since obesity is not desirable, neither for humans, nor for our furry friends; Because it deteriorates the quality of life and can increase the risk of suffering serious diseases, such as diabetes, joint problems or even a reduction of up to 2 years in your life expectancy. For that reason, human and animal health experts are very picky about excess fat and pounds. We must get rid of this excess and seek ideal weight, not for aesthetic reasons, but for health. For that reason here are some tips for your dog to lose weight.
How do I know if my dog is fat?
Observation will help you. Recognizing that there is a problem is the first step in any process of change. In our case, we can use a scale to know our weight. But in the case of our furry we can also observe their back from above. If the waist is not marked and it is difficult for us to feel his ribs, we can affirm that he is overweight.
Be careful about the treats or treats you give your dog.
We know that when your dog looks at you with those cute eyes at the moment you're eating, you find it hard to resist and avoid sliding a 'prize' under the table. But before you give him a treat you should take into account the following: a cookie for a dog is equivalent to a chocolate donut for you. For that reason, it is very important that you learn to reward your dog with other things than food, such as petting, playing with him for a while. a good brushing, etc. In this way, you will help reduce his overweight and continue to provide your dog with the rewards he wants so much.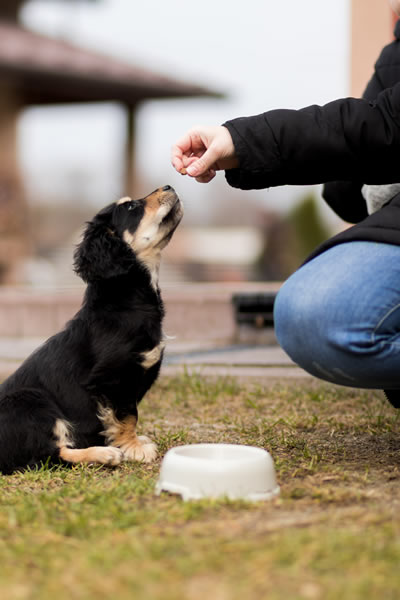 Weigh your dog's food.
Another of the tips for your dog to lose weight is to use the scale. But not to know the weight of your dog, but to weigh his food. Animal feed is designed to provide the necessary calories according to your size, weight and activity level. Therefore, if you follow the directions on the packaging, you make sure that your dog is eating the amount he needs to stay healthy. And if you give it a prize, always remember to subtract its equivalence in grams. For example: if you give 1 cookie to your dog, you have to subtract the approximate weight of the cookie from his plate of food.
Divide the daily food rations.
One of the tips for your dog to lose weight is to try not to give him all the food at once. If you hand it out, you'll help him digest food better and keep your dog satiated longer. For this reason, we recommend distributing our best friend's daily ration in 3 meals throughout the day, instead of just 2; in this way, you help reduce the feeling of hunger.
It is essential that your dog exercises.
Another important step in controlling your dog's overweight is physical activity. Going for a walk with your dog while they are looking at each of the shops that are on the avenue is not enough. It is necessary that you organize a series of exercises for each day, which must be adapted to your age, size and physical condition. And it gradually increases the intensity; this way you help your furry friend get in shape. If you have any questions, always consult with your veterinarian.
Ally with your veterinarian
Like any weight loss process, having the support of a nutritional advisor is essential. In the case of our pets, this role is played by your veterinarian, as he will be the one who can advise you and help you control the weight of your dog. The veterinarian knows all the benefits that a correct diet gives to your best friend. In addition, they will be able to schedule periodic consultations for the veterinarian to review the dog's progress.
Set a goal
Just as you set yourself some goals, you must also put it on your dog. But you must be patient and disciplined; in this way, you help your pet in the weight loss program that you have agreed with your veterinarian.
If you correctly follow these tips for your dog to lose weight, you will have excellent results and keep your furry best friend healthier.