Curiosities of the Doberman. It is a dog of athletic complexion, elegant and with a lot of energy. It is a very intelligent guard dog that stands out as a police and military dog, and also in various canine sports.
Although he has a reputation for being an aggressive dog, he can actually be a great companion to the whole family, loyal and affectionate. But it needs to be well trained by an owner who knows how to be a good leader.
Keep in mind that this is a large dog with a strong character. Be well informed before choosing a Doberman as a partner.
The Story of the Doberman
The Doberman breed developed in Germany in the late nineteenth century. It is named after a tax collector named Louis Dobermann, who lived in the district of Thuringia. His job involved moving with money and this made him a potential target for bandits.
As he was also the kennel of the city, Dobermann used to be accompanied by a dog to protect himself. In order to have a loyal and protective companion, he began to breed dogs, until he achieved the first Doberman Pinscher.
It is not known which dogs Dobermann used to create the breed, as he died in 1894 taking to the grave the secret of the crosses used, but it is believed that the Rottweiler, the German Pinscher and the Black and Fire Terrier are part of the mix.
In the late nineteenth century, other breeders continued Dobermann's work, looking for a dog that stood out more for its function than for appearance. They wanted to develop an exceptional dog, which stood out for its bravery, speed, intelligence and endurance. They did so well that the breed became popular for its stubborn and aggressive character.
World War I,
During World War I The breed was in danger of extinction; because these dogs were very expensive and only the military, police and people with a lot of money could own a Doberman. After 1921 several stallions were moved to the United States and little was increasing the number of specimens of this breed.
World War II
During World War II, the Doberman was again threatened in Germany, to the point that many believe that the breed would have become extinct if the Americans had not brought so many dogs to the United States before.
.
In both wars, the Doberman was used to help soldiers. Unfortunately, they were also used as suicide dogs; as they were made to load with explosives that were detonated from a distance when they approached enemy tanks.
Physical characteristics of the Doberman
One of the Curiosities of the Doberman is that it is characterized by being a large dog; it is between 60 and 70 centimeters high; its weight ranges between 30 and 40 kilos and has a life expectancy of 10 to 12 years. It is a stylized dog, very intelligent and loyal.
This dog is always alert to what is happening around him, and for this reason, he is an excellent watchdog. Although it has a reputation for being aggressive and bloodthirsty, the Doberman is a very affectionate dog. However, he will not hesitate to defend his family and his territory against any threat.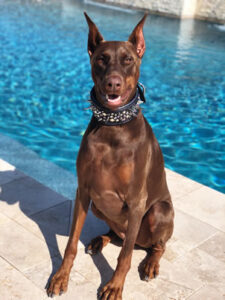 The Doberman needs an experienced owner who knows how to maintain leadership, otherwise he will assume the role of leader of the family. It is a large and very strong dog, which must be clear about its role so as not to constitute a problem.
Most common colors of the Doberman.
The coat color of this dog usually occurs in the combination of two or three colors, which can be:
reddish-brown
red, brown and chocolate).
blue, grey, silver and rust
light brown and rust
all Black
partial or total albino.
Personality of the Doberman
The Doberman is a very intelligent and extremely active dog. This is a very loyal dog that you can trust blindly. This dog loves to play and share moments with his family; therefore, it is important that you include him in family activities.
This breed of dog needs to perform a lot of physical exercise and likes to work. You should not forget mental stimulation, as it is very important for this dog. Another of the Curiosities of the Doberman, is that it is classified as one of the most intelligent breeds in the world, therefore, it is able to learn fast and maintain a fresh and interesting training.
The Doberman has to be socialized at a young age, exposing himself to many people and stimuli, to ensure that he will grow up as a friendly and balanced dog.
The Doberman and his relationship with children and other animals.
As we mentioned earlier, the Doberman is a great family dog, which adores all its members. He is absolutely reliable and protective of children, as long as he is well trained and socialized. It is also imperative to teach children how to relate to it (and this is true for all dogs). Adults should always supervise children's interactions with animals.
With other house animals, the Doberman is friendly, especially if they have been raised together. However, with animals outside the family, they can become aggressive. Especially if they see them as a threat to their loved ones.
Varieties of the Doberman.
One of the Curiosities of the Doberman is that three varieties of this breed are currently recognized; which are:
• The Sorcerer Doberman; it is the largest of all. It was developed with the idea of getting a fierce and intimidating watchdog. There are several health problems associated with this Doberman, in addition to being less agile than the others. Therefore, it is not officially recognized.
• The European Doberman; it originated in Germany in the nineteenth century for military and police work. He is the "most typical" Doberman. It is a loyal and affectionate dog with its own and distrustful of strangers.
• The American Doberman; it has a physical appearance similar to the European, although its structure makes them less resistant to a bite or attack. Their character is softer and kinder than that of Europeans, and they may be too shy.
On the other hand, we tell you that it is increasingly common to find small size dogs called miniature Doberman due to their physical appearance. However, you should know that it is not actually a dog of this breed. Rather, it is a Toy Terrier dog; which has a different personality and genetics, to that of the Doberman.
Doberman care.
If you have already decided to acquire a dog of this breed, you must take into account the following points for its care.
Space.
The Doberman needs a lot of physical exercise. If you don't have a large patio or garden at home, it's important to take it for a walk every day. And you should supplement your physical activity with other exercises. When going out to public places, never forget to take them on their leash, for their own safety and for the safety of others.
Training and socialization.
The Doberman is an excellent dog, but it needs consistent training and early socialization to become a balanced dog.
He doesn't like solitude.
Don't leave the Doberman alone for long periods of time or keep him chained in your yard. He needs to be part of the family, move freely and be with all of you,
Food.
It is important to feed the Doberman with top quality products that meet its needs. It is a very active dog that requires a high consumption of protein.
Toilet.
The Doberman has a short coat, sometimes with a light layer of undercover around the neck. It is a very clean dog that does not require much grooming. It is enough to brush it regularly to remove hair that falls out. As for the bathroom, it does not need to be frequent.
Teeth.
Brush your teeth at least two or three times a week to remove tartar buildup and bacteria. Provide your Doberman with suitable teethers.
Nails.
If you do not wear them out naturally, it will be necessary to cut them. Be careful and do not leave them too short, as they have blood vessels and could cause bleeding. If in doubt, your veterinarian will teach you how to do it, or he will do this work.
Ears.
Check your ears weekly. Redness or foul odor can be symptoms of an infection that will require veterinary consultation. When cleaning them, do it only through the external area, without introducing anything into the ear canal.
For any symptoms of illness, go immediately to your veterinarian.
These were the Curiosities of the Doberman. If you want a Doberman, and you are sure that it is a suitable dog for you, we recommend you not to go places of dubious origin; better look for a professional and responsible breeder. These breeders care about maintaining the good condition of the breed and guarantee that the dog is in perfect sanitary condition. It must also provide you with documentation showing that its parents have been authorized for breeding, in order to prevent the genetic problems associated with this breed.