As a dog owner, I've always been fascinated by the behaviors my furry friend exhibits. From tail wagging to fetching, it's always been interesting to watch my dog interact with the world around him. In this post, I'm going to explore some of the most fascinating dog behaviors and what they could mean.
Communication Behaviors
Dogs use a variety of ways to communicate with us and other animals. One of the most common communication behaviors is barking. Barking can indicate a wide range of emotions, including excitement, fear, and anxiety. Dogs may also howl to express their feelings or communicate with other dogs in the area. Additionally, tail wagging is a sign of happiness or excitement, while whining may indicate discomfort or anxiety.
Play Behaviors
Dogs love to play, and they have a variety of play behaviors that are fun to watch. One of my dog's favorite play behaviors is fetching. He loves to chase after a ball and bring it back to me. Tug of war is another popular play behavior, where two dogs or a dog and a human pull on opposite ends of a toy. Chasing, wrestling, and scent games are also great ways to keep your dog entertained and active.
Problem-Solving Behaviors
Dogs are intelligent animals, and they love to solve problems. Some of the most interesting problem-solving behaviors include figuring out how to open doors, solving puzzles, and learning new tricks. My dog is always trying to find new ways to get into the pantry, and he's even learned how to open the fridge!
Social Behaviors
Dogs are social creatures, and they love to interact with other dogs and humans. Greeting other dogs, playing with other dogs, and marking territory are some of the most common social behaviors. Guarding their owners is also a social behavior, as dogs see their owners as part of their pack.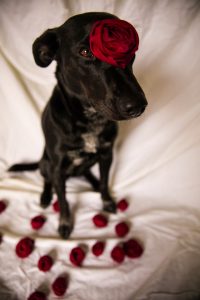 Instinctual Behaviors
Dogs have a variety of instinctual behaviors that are fun to watch. One of the most common is digging, which is a way for dogs to create a comfortable sleeping spot or to hide food. Chewing is also an instinctual behavior, as dogs have a natural urge to chew on things to clean their teeth and relieve stress.
Training Behaviors
Training behaviors are behaviors that are taught to dogs through training. Some of the most common training behaviors include sit, stay, come, heel, and roll over. These behaviors can be taught at any age, and they're essential for keeping your dog safe and well-behaved.
Body Language Behaviors
Dogs use body language to communicate their feelings and intentions. A play bow is a classic body language behavior that indicates a dog is ready to play. Licking and yawning are signs of stress, while stretching and head tilting are signs of relaxation and curiosity.
Strange and Unusual Behaviors
Some dogs exhibit strange and unusual behaviors that can be entertaining to watch. Tail chasing, eating non-food items, running in circles, sleeping in odd positions, and sneezing and snorting are some of the most unusual behaviors that dogs may exhibit.
Conclusion,
Dogs are fascinating animals, and their behaviors are a reflection of their unique personalities and instincts. By understanding their behaviors, we can better communicate with and care for our furry friends. To make this post more engaging, I suggest including images of dogs exhibiting these behaviors. A playful dog with a ball, a dog solving a puzzle, and a dog stretching would all be great images to include.
I hope you've enjoyed learning about some of the most interesting dog behaviors. What are some of your dog's unique behaviors? Share in the comments below!