As a dog lover and owner. For me, the great variety of dog breeds is fascinating. From ancient hunting dogs to modern designer breeds, there's a fascinating story behind each one. In this post, I'll take you on a journey through dog breed history, exploring some of the most interesting and beloved breeds along the way.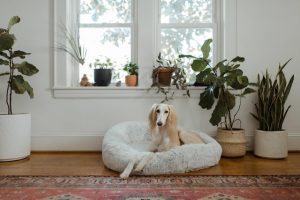 Ancient Dog Breeds
Let's start with some of the oldest dog breeds in the world.  Another breed of dog considered ancient is the Shar Pei, the inhabitants of ancient China used this dog for hunting and surveillance. Finally, the Basenji, whose origin is in Central Africa, has a distinctive bark, or lack thereof.
Hunting and Sporting Dog Breeds.
As humans began to use dogs for specific purposes, hunting and sporting breeds became more common. Greyhounds, with their incredible speed and endurance. Were bred for coursing and hunting. Pointers, on the other hand, were specifically bred for bird hunting and are known for their keen sense of smell and natural pointing ability. And who hasn't heard of the beloved Labrador Retriever? Originally bred to retrieve waterfowl, Labs are now one of the most popular breeds in the world.
Working Dog Breeds
There are breeds of dogs called working dogs. Because they have the main task of helping humans with various tasks. For example, pulling sleds or taking care of cattle. One of those dog breeds for work is the Siberian husky. This dog has a thick coat and incredible strength and great resistance to very cold climates. The husky was bred to pull sleds in harsh winter conditions. The German Shepherd is known for having high intelligence and loyalty, was originally bred for herding and guarding livestock. Finally, the Boxer is a dog that has a strong and powerful physique. It is also a dog with a great protective instinct, for this reason, it was originally bred for the work of guarding and being part of the police.
Toy and Companion Dog Breeds.
As humans began to live in smaller spaces and dogs became more popular as household pets, toy and companion breeds became more common. The Chihuahua is originally from Mexico. This one of the smallest breeds in the world and is known for its bold and spirited personality. The Pomeranian is originally from Germany, is known for its fluffy coat and cheerful demeanor. And the Cavalier King Charles Spaniel, originally from England, is a beloved breed known for its gentle nature and affectionate personality.
Modern Dog Breeds.
Finally, it's worth noting that the world of dog breeds is constantly evolving. New breeds are being created all the time through crossbreeding and genetic manipulation. While this can be exciting, it's also important to be aware of the controversies and concerns related to certain breeds. Some breeds are prone to health problems, while others may have negative behavioral traits.
Conclusion.
The world of dog breeds is rich and fascinating. From ancient hunting dogs to modern designer breeds, there's a breed for everyone. By learning about the history and characteristics of different breeds, we can deepen our appreciation and understanding of our furry friends. Whether you're a dog lover or simply curious about the world of domestic animals, I hope this post has been informative and enjoyable.