The best breeds of guard dogs to take care of your home. Adopting a dog is one of the best decisions you can make. This for several reasons; First, you will be changing the life of an animal that is possibly alone or abandoned. Second, you will have a companion, loyal and loving, who will make you company for many years; Finally, you will have a pet that is willing to defend your family, your home and you, from any threat.
We know that any dog is willing to sacrifice its life to protect its owners, but there are some dog breeds that have more suitable characteristics to be guard dogs and take care of your loved ones and your home.
In this article you will discover which are the best breeds of guard dogs to take care of your home.
Neapolitan Mastiff
The Neapolitan mastiff is considered a giant dog, it can measure up to 75 centimeters and weigh about 80 kilograms. It was believed that this breed descends from molossian dogs, an animal that was used by the Romans during battles; or to fight with other large animals, for example, with bears. In later centuries, more and more Roman families used this dog to take care of their properties. Currently, thanks to its origin, its huge and muscular body, its fierce appearance and its strong temperament, this dog is considered one of the best guard dogs in the whole world.
Boxer
This dog descends from a mixture of various breeds of dogs, such as bulldog, great danes, mastiff and Bullenbaissersers (already extinct breed) Hence its strong appearance. The boxer is characterized by being very skilled and intelligent, so it can be trained with ease. It is a large dog that measures between 50 and 60 centimeters in height and weighs up to 36 kilograms. He is kind to the people he meets and lives regularly. Otherwise, when it comes to intruders or people outside of him, he can be fierce and will not hesitate for a second to protect his family. The boxer bite is one of the most powerful due to its strong jaw. For these reasons, it is regarded as an excellent watchdog.
Shar-Pei
This beautiful dog is of Chinese origin; formerly it was used as a defense dog. Hence his strong and independent character. It tends to be very territorial, that means it does not allow strangers (people or other animals) to invade its space. However, he is a very loving and loyal dog with his owners, for that reason, he is willing to defend his family at any cost. Thanks to these characteristics and its large size (it measures about 50 centimeters high and weighs about 30 kilograms) it is ideal to be an excellent guard dog of your home.
Doberman
The Doberman breed is considered to be one of the smartest in the world. Thanks to its ease of learning and training, it has been used by the army and police to perform various tasks. It has been used as a guard dog, attack dog, or as a search and rescue dog, among other activities. This breed is extremely faithful to its loved ones, it is willing to give its life to defend its loved ones, and this makes it one of the best guard dog options for your family.
Pitbull
Unfortunately the Pitbull have a very bad reputation. Many people believe that this dog is aggressive and even dangerous. The truth is that, pit bulls are not violent against human beings, this is not part of their nature, unless they feel under threat. Instead, these dogs are extremely active and playful. However, its owner must have a strong character that manages to subdue the dominant temperament of the Pitbull. It is important to train him when he is a puppy, he must also socialize from an early age with other animals, because otherwise, when he reaches adulthood, he will be an uncontrollable dog.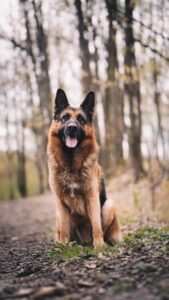 Great Dane
This is a guard dog by nature, its large size leaves no doubt about the ferocity that this dog can show when protecting its own. The Great Dane is one of the best breeds of guard dogs to take care of your home. He is also very affectionate, playful, kind and has a lot of patience with children. You must take into account, that this dog is giant, can measure up to 85 centimeters and weigh about 90 kilograms, and is very active, so you must have a large space at home so that it can run and play with full freedom.
This is another of the best-known dog breeds in the world. His great intelligence, agility, leadership and dexterity, make him the best candidate to perform very important tasks; they help police officers search for narcotics at airports. They are also used by the army for attack, search and rescue missions. And they are even trained to be guides for blind people. They possess great courage and are extremely loyal to their owners, and that makes it the ideal choice to protect your beloved family.
Akita Inu
This breed of large dog, is native to Japan, and is commonly known as territorial. She has great ferocity and is quite suspicious of strangers; so he will not hesitate for a moment to defend what he considers his (his owners, his space, his personal objects) That is why he is considered one of the best breeds of guard dogs to take care of your home.
However, we should not be fooled by its beautiful appearance. Like all the breeds mentioned above, Akita are good pets and loyal to their owner. However, when it comes to living with other dogs, it is intolerant. For that reason, it is not recommended for an inperiential caregiver to raise one of these puppies. Since, due to his difficult temperament, it is not easy to be able to educate him. And it needs a lot of training to become the best watchdog.
Rottweiler
These huge and beautiful dogs have the reputation of being murderers in the world of dogs. But you should know that, the Rottweiler is a fairly intelligent dog and capable of learning various tasks. For a reason, it is on the list of the ten smartest dogs in the world.
Thanks to the enough it is a large animal, with a strong and quite fierce body, it is considered one of the best guard dogs. These dogs have their origin in Germany, where it was of great contribution in the First World War. With the family he is affectionate and has patience with children, although for his great intelligence and prudence he prefers to be in a secluded place, rather than being the lapdog of the family.
If you have small children, the main thing is to give your Rottweiler the best possible training, since its size and strength is such that accidents could occur. This dog is loyal and reliable and is usually the best choice in terms of referring guard dogs.
Chow Chow
The chow chow is possibly the most tender breed on this list. His huge, hairy face full of love will steal your heart. The physical characteristics that stand out most in this dog, are its lion's mane and its pigmented tongue of blue and black color; rather it looks like a teddy bear.
Beyond its beautiful façade, the Chow Chow is a very reckless breed of dog. He is overprotective of his own. Therefore, it does not accept that outsiders or other animals get too close. His protective personality makes him the perfect guardian. It will always alert its owner if an intruder arrives unexpectedly and will protect each member of the family until their last effort. It is always alert and only needs good training since it is a puppy, to become one of the best breeds of guard dogs to take care of your home.