Have you ever wondered if is it beneficial for children to have a dog as a pet? If you have young children at home, it is very possible that you have already asked yourself this question on several occasions. Because it is almost certain that at least once in a lifetime; your children have asked you to give them a puppy.
Nowadays, more and more parents decide to adopt a dog to accompany their children; or to take care of the house. Despite this, many parents are still not aware of the important benefits that their children will have from having a canine pet.
If you have children and you are interested in knowing if it is beneficial for children to have a dog as a pet. Continue reading this article and you will be surprised with the information we provide.
Fosters a sense of responsibility
The moment you decide to adopt a dog for your children, you know that its care and support will fall almost entirely on you or your partner. This is one of the reasons why parents are still hesitan to adopt a dog for their children. While the kids just enjoy all the fun.
However, this does not have to be the case, parents should talk to children and make them understand that they will have to assume certain responsibilities with their new pet. Assign your children various tasks such as feeding, bathing, taking a walk, cleaning the dirt of the hound. Little by little the children will feel like the parents of the pet and the desire and need to care for and protect another living being will be born.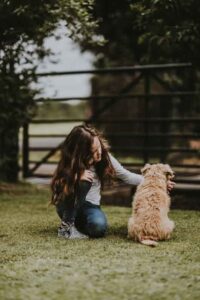 Improves the health status of children.
Several studies have shown that babies who are in contact with a pet get sick less often. This is because these babies are more exposed to certain microbes that cause their immune system to become stronger. Children who grow up with dogs have even been found to have less risk of asthma or developing allergies.
On the other hand, the interaction between the child and the dog has been shown to decrease stress and depression. The simple act of hugging or petting the dog regulates blood pressure and heart rate. At the same time, it reduces psychosomatic conditions caused by strong emotions, such as; anxiety, aggressiveness, headaches or abdominal pains, skin problems and alterations in the rhythm of eating.
In addition, having a dog at home can cause children to do more physical activity when playing and running with their pet, which decreases sedentary lifestyle and therefore childhood obesity, causing other more serious problems.
Increases self-esteem in children.
The psychological well-being of children is another of the most important benefits of having a dog at home. Several studies have shown that many people who lived with a dog since childhood, showed a healthier self-esteem. Undoubtedly, the relationship that is built between a child and his pet, can become so close that it makes the child feel a very loved and valued person. We know that the love that a dog has for its owner is unconditional.
In the same way, a child with healthy self-esteem feels much more confident in himself and will be able to better face the problems and conflicts that arise in his life. In addition, he is able to feel greater empathy for others. You can even appreciate the small details and gifts you receive from your furry friend; such as carrying the ball or a simple and tender approach.
Better development of social skills
A dog is a faithful companion, a lifelong friend. This is how children see it and that perception develops being in the company of a pet. Which is subsequently transferred to other people.
Having a dog fosters companionship and friendship, helping the child to adapt to coexistence with other people, especially with the family and other children.
Social skills and communication grow, the dog is the perfect link between the child's inner world and the outside world, and makes the whole process of interaction and expression easier.
An unconditional love.
A dog makes empathy and love go into the child's heart. The feelings that are generated are as innocent as they are powerful and important.
Having a dog teaches children about love without prejudice and conditions. Over time, it becomes more important and natural to play and pet the dog than to engage in other idle activities or with negative tendencies. The intimacy that is created gives the child a sense of security when the elderly are not present; the dog is like a protective shield.
Thanks to the information we have just presented to you, we consider that we have satisfactorily answered the question: Is it beneficial for children to have a dog as a pet?
In addition, we hope we have convinced undecided parents that adopting a dog for their children is one of the best decisions they can make. Since a dog represents a life partner, a friend, or even a brother. And you will make your little ones very happy.