Beginner's Guide to Dog Grooming. As a new dog owner, one of the most important things you can do for your furry friend is to keep them clean and healthy. Regular grooming is a key part of this. Not only will grooming keep your dog's coat shiny and tangle-free, it will also help you to detect any potential health problems early on. Here are some tips and techniques to get you started on your dog grooming journey.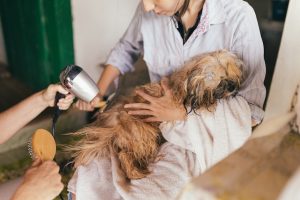 Brushing: How to Keep Your Dog's Coat Shiny and Tangle-Free
Brushing your dog's coat is an essential part of their grooming routine. It helps to remove loose hair, dirt, and tangles, and can also improve circulation and distribute natural oils. To start, you will need to choose the right type of brush for your dog's coat. A slicker brush is best for dogs with long or curly hair, while a bristle brush is better for short-haired dogs. Begin by gently brushing your dog's coat in the direction of hair growth, and work from the head to the tail. Be sure to check for any mats or tangles, and use a dematting tool or scissors to remove them if necessary.
Bathing: Step-by-Step Guide to Giving Your Dog a Bath
Bathing your dog is another important part of their grooming routine. However, it's important to do it properly to avoid skin irritation and other problems. Before you start, make sure you have all the necessary supplies, including dog shampoo, towels, and a non-slip mat. Begin by brushing your dog's coat to remove any loose hair and tangles. Next, wet your dog thoroughly with warm water, and apply shampoo, working it into a lather. Be careful to avoid getting shampoo in your dog's eyes, ears, or nose. Rinse your dog thoroughly, and towel dry. If your dog has a long coat, you may need to use a hair dryer on a low setting to avoid matting.
Nail Trimming: Why It's Important and How to Do It Safely
Keeping your dog's nails trimmed is essential for their health and well-being. Long nails can cause discomfort and pain, and can also lead to infection or injury. To trim your dog's nails, you will need a pair of nail clippers designed for dogs. Start by getting your dog used to having their paws handled, and reward them with treats for good behavior. When you're ready to trim, hold your dog's paw firmly and clip the tip of each nail, being careful to avoid the quick (the pink part of the nail that contains blood vessels). If you accidentally cut the quick, apply some styptic powder to stop the bleeding.
Ear Cleaning: Tips for Keeping Your Dog's Ears Clean and Healthy
Regular ear cleaning is important for keeping your dog's ears healthy and preventing infections. To clean your dog's ears, you will need a dog-specific ear cleaner and some cotton balls. Begin by inspecting your dog's ears for any signs of redness, discharge, or foul odor. If you notice any of these signs, consult your veterinarian before cleaning your dog's ears. If your dog's ears appear healthy, apply the ear cleaner to a cotton ball and gently wipe the inside of the ear flap and the ear canal. Avoid using cotton swabs or inserting anything into the ear canal, as this can cause injury.
Teeth Brushing: Importance of Dental Care and How to Get Started
Dental care is an often-overlooked aspect of dog grooming, but it's important for your dog's overall health. Dental problems can lead to infection, tooth loss, and even heart disease. To get started, you will need a dog-specific toothbrush and toothpaste. Begin by getting your dog.