Curiosities of the Border Collie. Did you know that the border collie is considered the smartest breed in the world? That's right, this dog has earned this recognition, because it has a wide learning capacity in different areas. Is able to memorize new orders at a considerably faster rate than other dog breeds
But beyond its intellect, the border collie stands out from other breeds, because it is able to create a very strong bond with its owners. It is a dog with many qualities, which are worth knowing; especially if you have a border collie dog, or are thinking of adopting a dog of this breed; or you just want to learn more about the canine world. In this article we will tell you the curiosities of the border collie, the smartest breed in the world.
Origin of the border collie
It is still unknown what the exact origin of the border collie breed is; but we know that it developed in the British Isles, between the fifth and first centuries BC, and accompanied the Celtic tribes. It is even believed that its name comes from the language of these communities; since "collie" means "useful"
These tribes settled in Ireland, however, the border collie that we know today was finished developing between Scotland and England. In fact, its name literally means "border collie" due to the populations located on the borders of those two countries. From that time, he already stood out as a shepherd dog to guide the cattle; work that still performs today for its agility and intelligence.
But it was until the twentieth century when the different canine organizations recognized the border collie dog breed officially.
Physical characteristics of the border collie
As we mentioned earlier, the border collie breed stands out for having great agility; and it is ideal for exercising, jumping and running, because its legs are long and muscular. On average, it has a height of 53 centimeters and its weight ranges between 15 and 20 kilograms. They show an elongated body and a very dynamic appearance.
With regard to the coat that the Border collie has, we can tell you that there are two different varieties, the long-haired border collie and the short-haired border collie. In both cases the dog has a double layer of dense hair that protects it from the cold and wind, a soft internal and a rougher external. Your hair color can vary between different combinations of black, white, brown, and fire. There are even some blue and white dogs, but they are less common loe.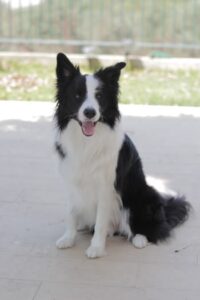 Character of the border collie
Another of the curiosities of the Border Collie, the most intelligent breed; it is his character. We have already mentioned above that this dog stands out for its great energy and activity. For that reason, many people think that the border collie should only live in rural areas. But, if the dog has a good routine of walks, exercise and stimulation can perfectly adapt to life in a city.
For that reason it is recommended that this breed of dog be adopted by active families; who have a passion for sports, dog training or hiking.
In addition, it requires a family nucleus that can dedicate time and a lot of stimulation. Lack of training and dedication can turn the border collie into a destructive, hyperactive, anxious, nervous dog and barking excessively.
On the other hand, the border collie is a very faithful dog with its owners. He is a born observer who quickly understands the way people express their feelings. This dog is accommodating and tender with his loved ones; while with strangers he can be shy and reserved.
The border collie can live with children, as long as they are trained and understand the limits of play with the little ones. It is also important to instill in children how they should treat animals and what they should or should not do.
Border collie care
Being a dog with a lot of energy, we recommend that they take 3 to 4 walks a day, combining relaxation, sniffing and physical exercise. In addition, you can not miss mental stimulation in your daily routine through intelligence toys. These activities can be done at least three times a week. In this way we will ensure that he is mentally active and stimulated.
Nor can you forget, provide a quality diet, adapted to your needs and that ensures complete nutrition, which guarantees an optimal state of health.
Remember to brush your border collie, at least three times a week, to remove dead hair to ensure a healthy and shiny coat. And give it a bath once a month so that it always looks beautiful.
Most common diseases of the border collie
In recent years, the border collie dog has experienced increasing popularity. Which has caused many illegal breeders to increase the population of this breed, without having the proper knowledge to ensure a good breeding of puppies.
All this has had a negative impact on the breed, causing an increase in hereditary diseases and the appearance of certain behavioral problems, most of them related to aggressiveness and fear.
Below we will show you the most common diseases of the border collie:
Abnormalities in eyes and retinas.
Deafness
Cataracts
Ataxia
Hip dysplasia
Lens dislocation
Idiopathic epilepsy
For these reasons, do not forget to go periodically with the veterinarian. And you must complete the vaccination schedule, so you will reduce any health problems
After reading the curiosities of the border collie, the smartest breed, you are already better prepared to adopt and care for this beautiful and special dog. And as a reward, you will have a friend who will make you feel a very proud owner.