Dog Socialization Training. If you're a dog owner, you know that your furry friend is more than just a pet – they're a part of your family. But just like any family member, your dog needs to learn how to behave in different environments and around new people and animals. That's where dog socialization training comes in!
In this guide, I'll go over what dog socialization training is, why it's important, and how you can get started. By the end, you'll have all the tools you need to give your dog the best possible start in life.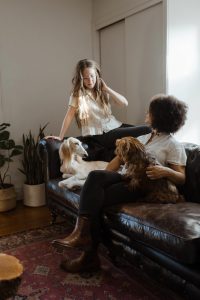 What is Dog Socialization Training?
Dog socialization is the process of getting your pet used to different people, environments, and experiences. It helps your dog develop positive associations and behaviors, and can even prevent behavior problems in the future.
Dog socialization training usually starts when your dog is a puppy, but it's never too late to start! Whether you're a new dog owner or just looking to give your pet a boost, socializing your dog is a great way to strengthen your bond and make your pet a happier, healthier member of your family.
Why is Dog Socialization Training Important?
There are many reasons why socializing your dog is important. Here are just a few:
It helps prevent behavior problems. Dogs that are socialized from a young age are less likely to exhibit aggression, fear, or anxiety in new situations.
It makes trips and outings more enjoyable. A well-socialized dog is more relaxed and confident in new environments, which makes trips to the park, pet store, or even the vet a lot more enjoyable for both you and your pet.
It helps your dog adapt to changes. Life can be unpredictable, and a well-socialized dog is better equipped to handle changes in routine or environment.
Basic Obedience Training
Before you start socializing your dog, it's important to have a basic understanding of obedience training. This will help you communicate more effectively with your pet and establish a clear line of control during socialization.
Some basic obedience commands to start with include "sit," "stay," "come," and "heel." These commands can be taught with positive reinforcement techniques, like treats and praise, and will lay the foundation for a happy and well-behaved pet.
Controlled Exposure
Once you have a basic understanding of obedience training, it's time to start exposing your dog to different environments and experiences. This is where controlled exposure comes in!
Controlled exposure is the process of gradually introducing your dog to new people, animals, and environments in a safe and positive way. This will help your pet develop positive associations and behaviors, and prevent behavior problems down the road.
Some tips for successful controlled exposure include:
Start small and gradually increase the level of exposure.
Ensure your dog is relaxed and comfortable in each new situation.
Reward good behavior with treats and praise.
Positive Reinforcement
Positive reinforcement is a powerful tool when it comes to dog socialization training. By rewarding your pet for good behavior, you're reinforcing that behavior and encouraging your dog to repeat it in the future.
Some tips for using positive reinforcement effectively include:
Use treats that your dog loves.
Make sure the treat is worth working for!
Use plenty of praise and affection.
Introducing New Experiences
As you continue the socialization process, it's important to introduce your dog to new experiences such as loud noises, sudden movements, and unfamiliar objects. Make sure to do so gradually and in a controlled manner to avoid overwhelming your dog.
Practice and Repetition
Practice makes perfect, and that's certainly true when it comes to dog socialization. Regularly practicing socialization and repeating exposures to different environments and experiences will help maintain and reinforce positive behaviors.
Monitoring Behavior
As you work on socializing your dog, it's important to continuously monitor their behavior. Pay attention to their body language and reactions to different situations, and adjust your training approach as needed to maintain a positive and stress-free environment.
Professional Help
If you encounter any difficulties during the socialization process, don't hesitate to seek professional help from a certified dog trainer. They can provide valuable guidance and support as you work to socialize your furry friend.
In conclusion, dog socialization training is a crucial aspect of giving your dog the best life possible. Start with basic obedience training, gradually introduce new experiences, use positive reinforcement, and be sure to monitor your dog's behavior throughout the process. With time and patience, you'll have a well-socialized and happy pup!