Did you know that exercise is just as important for dogs as it is for humans? That's the way it is, in fact, dog sport is more than a physical activity. It includes fun, movement, brainpower, training and social interaction. Here we are going to introduce the most popular sports for dogs.
Agility for dogs
Agility, this sport consists of the dog having to cross a circuit of 100 to 200 meters with more than twenty obstacles; between these obstacles you will find walls, wheels, tunnels, jumping fences, tables and many more. And you must do it in the shortest possible time and without making mistakes. The human companion is the one who guides the dog, with gestures and shouts of encouragement through the Agility circuit; since leashes or similar objects are not allowed.
This sport not only exercises the body and mind of the dog and the human; it also unites them as a team. Since there are agility circuits for dogs of different sizes it is ideal for almost all dogs.
Degility
This sports for dogs is focused on amateur athletes who are looking for alternatives to entertain their dogs without having to compete with others. This makes degility also suitable for older or disabled dogs; since the circuits, with different obstacles such as tunnels, tubes, rockers or wheels. Are completed without time pressure. Unlike other types of dog sport in which speed; time and triumph are decisive, the most important thing in degility is fun.
Companion Dog Education
This sport for dogs is a kind of school for dogs, in which dogs learn the bases for a harmonious coexistence. The program contains the subjects of social compatibility, road safety, obedience and impartiality. This activity does not require a great physical effort.
In the companion dog education course, dogs learn to obey basic commands. It is recommended to start the furry in this course when it is still small to facilitate a balanced coexistence.
Most dog sports centers use positive reinforcement; which is pleasant for both the dog and its human and also promises good results in the long term.
Canicross
This sports for dogs is a kind of field race. Iin which, the dog pulls its human companion on a flat or steep surface. Both species (dog and human) are joined by a special leash. However, it is the dog that sets the speed, not the person. The belt has a click closure that can be easily released, preventing the dog from dragging its companion in the event of a fall. Canicross is an ideal activity for sports people and for dogs that love to run
Biathlon for service dogs
As the name suggests, this canine sport is aimed at service dogs, which have to overcome different obstacles along a route of 6-11 kilometers. Varied activities include crossing a water channel, jumping on tree trunks and sliding down pipes and swimming. You also have to pass tests in which the use of firearms is activated, as well as a simulation of an attack by the dog on its partner. Service dogs and their handlers have to pass the race in a certain time or they will be deducted points.
Biathlon for dogs
Unlike biathlon for service dogs, biathlon for dogs is aimed at civilian dogs. However, the tests are similar to the previous variant. Only shooting exercises and attack on the controller are omitted in this sport.
Dog dancing or canine freestyle
Dancing with your dog may seem absurd and uncommon for a dog, but this sport is based on the natural movements of the dog. The owner creates a choreography with several basic obedience exercises, movements and tricks such as stretching, walking sideways or backwards, turns and half turns, on two legs and jumping or running, while the previously selected music plays. It is a sport suitable for any dog, no matter the size, weight or how fast it is.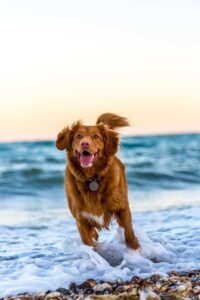 Dock diving or dock jumping
This new sports for dogs is quite fun, it consists of the dog jumping as far as possible into the water, from a platform that is sixty centimeters from the surface. The human companion motivates the dog to jump by throwing a toy at him. This sport is low impact for dog joints, making it ideal for dogs of all sizes and ages. Only those furry ones with a fear of water will not enjoy this activity.
Disc dog or frisbee for dogs
This sport is more complex than it seems, it's not just about bringing the disc back. There are different variations of shots and tricks that both the dog and the caregiver will learn. Thanks to this activity, the dog and his human friend come to form an excellent work team. The frisbee for dogs is enjoyable for all dogs that are in good health, that have a great need to move and that love to play. Large, heavy dogs, as well as young dogs that are still developing their bones, should avoid this activity because large jumps can overload joints and cause injury.
Flyball
The flyball is a kind of relay race, one of the dogs, has to cross four obstacle fences to reach a ball throwing machine that must activate with its legs. Next, you have to catch the ball in the air with your mouth and go back to the start by going through the obstacles again. Once he has returned to the start with the ball it is up to the next dog on his team. The team that first got all the balls wins.
IPO
This is the sport is divided into three categories: tracking, obedience and defense and protection. It is a very demanding sport, both for the dog and for its guide. In tracking, the dog has to follow by smell a clue that a tracer has left. Obedience is the phase where the balance and endurance of the furry is tested, recovery and anticipation exercises are performed to verify that the dog is able to remain calm in extreme cases. In protection and defense activities the dog shows its skills to watch and bark, as well as to defend in a simulated attack.
Passing these tests requires a lot of skill, responsibility, patience, and empathy on the part of the caregiver.
Mantrailing and tracking
This sport for dogs is based on the use of the sense of smell. There is a difference between mantrailing and tracking. In the tracking the dog has to follow a track on the ground, while in the mantrailing it is guided by a certain smell that has left behind the tracer. In this sport the dog sniffs an artificial trail that must be followed on its own, accurately, calmly and at a constant speed. Mantrailing and tracking is ideal for search and rescue dogs
Obedience
It is a sport that requires excellent communication between the dog and the caregiver. Throughout the different activities, both the dog and its human companion have to show that they blindly trust each other and that they complement each other as a team. In addition to mastering the basic commands as sit, take a look or come here, the dog must bring different objects to his human and demonstrate that he obeys voluntarily, even from a certain distance. This dog sport is suitable for any dog. But there will be some breeds, which by their nature, will be more attracted to this sport.
Rally obedience
It is a sport for dogs in which the dog and its driver have to walk along a route marked with signs. Although many of the activities are similar to those of obedience, they are complemented by agility exercises in which coordination, speed and dexterity are required.
Search and rescue of people
The requirements of a good rescue dog are an excellent sense of smell, a good search ability and correct social behavior with people. Similar to the training of rescue dogs, in this sport the dog will learn to put its search capacity to use. Real rescue situations are recreated such as searches in large areas and debris, water rescues and searches. Despite being focused more on the goal than on sportsmanship, it is a good alternative for those dogs that enjoy a significant activity to let off steam.
Greyhound race or coursing
As the name suggests, this sport is a discipline for the breed of greyhound dogs. Dogs run on a racecourse or on a piece of land, after an artificial hare. In this way they can give free rein to the desire to run. Since nowadays it is quite difficult to satisfy this innate urge to run, it is highly recommended that greyhound caretakers let their dogs participate in this sport.
Shooting sports for dogs
This sports for dogs refers to the dragging of a vehicle. The dog uses force to drag people on skis, bicycles, sleds or carriages, either alone or in a team. Good physical condition and great strength are indispensable; but trust and teamwork between the driver and the dog are also of great importance. This sport requires a lot of strength, therefore, it is suitable for dogs of large breeds.
What is the best sport for your dog?
Finding the right dog sport for you and your furry isn't always easy. Fortunately, most dog sports schools offer trial workouts and can advise you on the ideal type of sport for your loyal friend's needs and tendencies.
No matter what type of sport you and your dog choose, the essential thing is that you both get in shape, entertain yourself and become more united. And maybe you'll find that your dog has talents you never imagined.