As pet owners, we all want to give our furry friends the best life possible. And one of the ways to do that is by providing them with mental stimulation through play. Not only is playtime fun for our dogs, but it also keeps their minds active and helps prevent boredom, which can lead to destructive behaviors. In this article, I'll share with you the best toys for mentally stimulating dogs.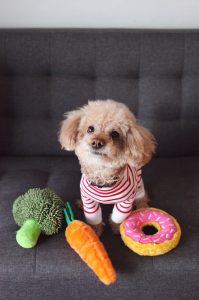 Understanding Your Dog's Play Preferences
Before we dive into the top toys, let's first understand our dogs' play preferences. All dogs are unique and have different play styles. Some dogs are active and love to play fetch, while others are more passive and enjoy snuggling with a plush toy. It's important to know what type of play your dog enjoys so that you can choose the right toy for them.
Another consideration is your dog's sensory preferences. Dogs have five senses, and each one plays a role in their playtime. Some dogs love toys that make noise, while others prefer toys they can taste or smell. Knowing your dog's sensory preferences can help you choose toys that they'll love.
Finally, your dog's age and breed should also be taken into consideration when choosing toys. For example, older dogs may prefer more low-key toys, while young dogs may enjoy more interactive toys.
Types of Toys for Mental Stimulation
There are several types of toys that can provide mental stimulation for your dog. Here are some of the most popular:
Puzzle toys: These toys challenge your dog's problem-solving skills. They come in a variety of shapes and sizes and can dispense treats when solved.
Interactive toys: These toys require your dog to engage with them to get a reward, such as a treat or a toy. Interactive toys can keep your dog entertained for hours.
Treat-dispensing toys: These toys dispense treats when played with, providing both physical and mental stimulation for your dog.
Fetch toys: Fetch is a classic playtime activity that dogs love. Choose a fetch toy that's appropriate for your dog's size and play style.
Chew toys: Chewing is a natural behavior for dogs, and chew toys can provide mental stimulation while satisfying this urge.
Top Toys for Mentally Stimulating Dogs
Now that you have an understanding of the different types of toys, here are my top picks for mentally stimulating dog toys:
Outward Hound Hide-a-Squirrel Puzzle Toy: This toy is a classic for a reason. It challenges your dog's problem-solving skills as they figure out how to get the squirrels out of the tree trunk.
Kong Classic Dog Toy: The Kong Classic is another classic toy that's great for mental stimulation. It can be filled with treats and is made of durable rubber that can withstand even the most aggressive chewers.
Chuckit! Ultra Ball: If your dog loves to play fetch, the Chuckit! Ultra Ball is a great choice. It's made of high-quality, durable rubber and comes in a variety of sizes.
Benebone Wishbone: This chew toy is made of nylon and real bacon or peanut butter, providing a tasty and long-lasting chew experience for your dog.
Busy Buddy Twist 'n Treat: This treat-dispensing toy is a great choice for dogs who love to play and chew. It can be filled with treats and provides both physical and mental stimulation.