You are seriously considering adopting a small breed dog, the Yorkshire terrier can be an interesting alternative for you. But before making a decision, it is important that you know the curiosities of the Yorkshire terrier.
Remember that a dog can be part of your life for many years; therefore, you must be willing to take on this great responsibility. Below we will present interesting facts that will help you to know in more detail about this beautiful breed.
Origin of the Yorkshire terrier
The first appearances of Yorkshire occur in England during the nineteenth century; when you start to develop a small breed of terriers of easy maintenance for the hunting of rats. And in the year 1860 its existence is officially recognized. It was his popularity that swept through different competitions and exhibitions. It is still unknown what the real origin of this breed of dog is. But it is believed that the Yorkshire descends of breeds such as English toy terrier; skye terrier or dandie dinmont tierrer; among many others.
At that time, humble people were looking for a small dog, easy to care for and train, to hunt rats.
Later, the British bourgeoisie realized that the Yorkshire terrier was a sweet little dog; perfect for being a companion animal. Thanks to that the Yorkshire ceased to be a hunter and became one of the breeds preferred by the aristocracy.
Physical characteristics of the Yorkshire terrier
Continuing with the curiosities of the Yorkshire terrier, you should know that it is considered a miniature breed. Their weight ranges from two to four kilograms, although some Yorkshire are larger and can weigh up to seven kilograms. And its size is between 15 and 20 centimeters in height.
Yorkshire has abundant medium to long size hair. Its mantle is straight, shiny, silky and combines the different shades: black, fire and dark steel blue.
We also highlight that it is a breed known and popular for being hypoallergenic; which makes it the ideal pet for people who suffer from allergies, this because it loses little hair. It is an easy dog to comb and care for.
Finally, we will talk about the ears of the Yorkshire; the official standards of the canine associations explain that the ears of this dog must end in point; always staying raised as if the dog were alert. However, if you have a Yorkshire terrier with drooping ears and you are not interested in participating in the different dog competitions, this trait is not important. Otherwise, you would have to go with an expero.
Character of the Yorkshire terrier
Another of the curiosities of the Yorkshire terrier is that it stands out for being an alert, intelligent and very active dog. It is an excellent breed to live with all types of families, as it adapts wonderfully to any environment. One of the attitudes that can bother you and you should take into account before adopting a Yorkshire; is that you can adopt the habit of barking a lot, since it is a vigilant and alert dog by nature. If that's not to your liking, you should think about other, less barking breeds.
Other characteristics of the Yorkshire terrier that should be highlighted are the overprotective and challenging attitudes, uncommon in small breeds of dogs. You must be very clear that the education of Yorkshire must start from the time you are a puppy with the socialization process so that you can enjoy a sociable, trained and mentally healthy adult dog.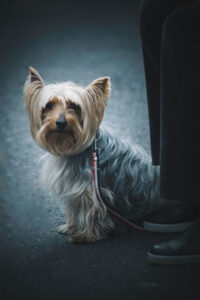 Usually, we talk about a very affable dog and attached to his family, easy to treat and really very affectionate.
Yorkshire terrier care
The Yorkshire terrier is a dog that will not need much care, however, we will take into account some general details that will help us keep it happy, clean and beautiful for longer.
The first and most important will be to comb our dog on a regular basis, at least every other day if we leave his coat long, since it is susceptible to tangles and dirt accumulation. In addition, if we do not try to avoid the appearance of knots, then it will be much more complicated to eliminate them.
Helping us with a good special brush for dogs will facilitate the task and make it much more pleasant for him.
The tremors that accompany the small body of the Yorkshire are common, either because of the cold or stressful situations. It will be important to prevent the cold by wearing clothes for small dogs and protecting you from the rain.
The Yorkshire bath is also very important to keep your hair free of dandruff, another worrying factor for allergy sufferers. The regularity with which we must bathe our Yorkshire terrier is usually every two weeks; although that will depend on the dog in particular, the length of the hair or how it gets dirty in the park.
Yorkshire terrier training
The training of the Yorkshire terrier will start from its socialization, which comes to be the presentation of the environment to our dog. It is very important that you learn to know other people, dogs, vehicles and objects of all kinds so that you do not develop fears, phobias or aggressiveness in your adult stage. Although it is great that your Yorkshire terrier knows many people and animals, you must make sure that his feelings at this stage are positive for him. Avoid scares, aggressions or discomfort at all costs.
After its socialization stage, the Yorkshire must start training, either in a group or individually at home. It is very important that you learn the basic orders such as: sit still, stay still and come, as they will help you stay safe in the city and avoid other dangerous situations. In addition to the latter, practicing obedience with your Yorkshire terrier will help you forge a good relationship with him.
Although it sounds strange, it will also be essential to add different types of games in your usual routine. That allows them to relieve tensions and burn the accumulated energy.
Health of the Yorkshire terrier
A Yorkshire terrier dog can accompany us for a long time; living between 15 and 18 years if it needs good care and stays away from some frequent diseases of the Yorkshire terrier such as patella dislocation; spine problems or congenital hydrocephalus.
In addition to degenerative or hereditary diseases; the Yorkshire can suffer from dislocation problems if it plays with children or other larger dogs that can exert too much force on it.
After reading the curiosities of the Yorkshire terrier you are ready to give your furry best friend a fabulous life together.