It's time to introduce yourself to the rarest dogs in the world. We know that each of the dog breeds has its own unique characteristics, which differentiates it from the rest of the other breeds. However, in this article we are going to present the breeds that stand out from the others, for their peculiar features. It is even uncommon for you to see one of these dogs walking around the park.
If you want to discover which are the rarest dogs in the world, do not forget to read and this interesting article.
Chinese crested dog
The strange appearance of this dog is perceived at first glance. They are dogs that are born practically hairless; it only has a few strands of fine hair on the head, legs and tail. While the rest of the body is "naked". It is a small dog, which can measure between 26 to 30 centimeters and weigh between two to five kilograms.
The Chinese Crested Dog is quite affectionate with his family, even with children. He tends to be obedient and quickly learn commands given to him by his caregivers. This dog usually has a lot of energy and is very active. For that reason, he loves to play and take long walks in the park.
As a curious fact, in the same litter can be born specimens completely covered with hair. But these puppies are called powder puff; which usually have a very long, soft and shiny hair.
Bedlington terrier
Another of the rarest dogs in the world is the Bedlington terrier. At first glance, you might mistake it for a small sheep; because it has a curly white coat and very fluffy. The head of this dog has a rounded wedge shape, a long and thin snout and oval ears. All these characteristics further accentuate the resemblance that this dog has with a beautiful sheep. It is a medium dog that can measure between 38 to 42 centimeters in height and weigh up to 10 kilograms.
The Bedlington terrier, stands out for having a tenacious and strong character. So he is not afraid to face any danger or challenge. He is also very friendly and affectionate with children and adults. It has a high level of intelligence, so its training is relatively simple. Thanks to these characteristics, it is considered an excellent companion dog, and can even be adapted to small spaces.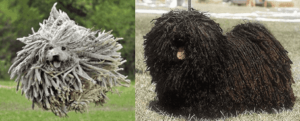 Puli
The Puli is another of the rarest dogs in the world. His appearance is too curious and eccentric. You can identify it very easily, thanks to your abundant hair in the form of dreadlocks. It is a medium dog, its size ranges between 37 and 44 centimeters in height, and weighs about 10 to 13 kilograms. The Puli is very active and with an extraordinary capacity for learning, extremely loyal to his family and adores children; In addition, it has the necessary skills to be an excellent guard dog.

Peruvian hairless dog
This exotic breed is also known as The Inca Orchid Peruviana. As the name implies, it is a dog that lacks hair; only on some occasions is born with a small strand on his head. It comes from the ancient civilizations of Peru. It is a medium dog whose height ranges between 50 and 60 centimeters; and its weight is about 15 to 20 kilograms.
This breed of dog extremely affectionate with its owner, and loves to play with other dogs. However, he is wary of any stranger. It is the ideal dog to live indoors; in fact, being a hairless dog, its skin is delicate, so it is not feasible for it to live outside.
Affenpinscher
This dog has a very peculiar and striking face, similar to that of a small monkey. And some people think it looks like Star Wars ewoks. This breed of dog has its origin in Germany, and is considered one of the oldest in the world.
It is a dog of small size, since it only weighs between 3 to 6 kilograms and reaches a maximum height of 30 centimeters. Even though it is a small dog, it has a lot of energy and needs to be in constant activity, otherwise it can become a little naughty and do some wrecking at home. However, he is a very affectionate dog and loves to spend time with his owners.

Catahoula leopard
The catahoula leopard, whose origin is American, is considered another of the rarest dogs in the world, due to its peculiar fur; which is short, dense and shiny; Their hair can be of different colors, such as red, blue, black with mottles in other shades, hence their nickname "leopard".
This dog is large (it measures about 60 centimeters and on average weighs about 35 kilograms), energetic and very active; so it is the ideal companion for those who like the outdoors and long walks. This breed is quite intelligent and enjoys challenges, so practicing interactive games or performing searches with it can be great ideas their physical and psychological well-being.
Australian Cattle Shepherd
This dog is considered one of the rarest dog breeds in the world, because it has a unique coat, which seems to always be wet. And it can be presented in different colors; such as blue, blue mottled, red or mottled in red.
It is a dog that is characterized by always being alert, intelligent and brave. Highly reliable and courageous, they have the tenacious sense of duty. Loyal to their owners and cautious to strangers, they are fiercely protective and protect children a lot.

Tibetan Mastin
This is a giant dog, which, due to the density and volume of its fur, resembles a lion. It is one of the oldest breeds in the world, and comes precisely from the Asian region of Tibet, where it is popularly known as a nomadic dog. He tends to be an independent dog, has a reserved character, but is very loyal to his family. By its very nature as a watchdog, it will protect its loved ones and its territory from any threat.
Xoloitzcuintle.
Finally, we introduce you to the xoloitzcuintle, a beautiful dog that accompanied the ancient Aztec civilization (in Mexico). In fact, this civilization venerated this race because they considered it to be the living representation of Xototl, the Aztec God of death.
The main characteristic of this breed of dog is that it has no hair, but there are some specimens that have some hair on the head and tail. As for colors, there is a great variety, such as brown, black, gray, bronze, blond, reddish or spotted, but, in general, they are usually solid and rather dark colors. It is a fairly affectionate and loyal dog with its human family, and is very playful with children.