It is very likely that at some point in life you have seen personally or in photographs a huge and furry dog called Tibetan Mastiff, one of the most beautiful beasts. Even, if you have considered the possibility of buying one. We want to advise you to first think about it two or three times, before doing so, because this breed of dog is the most expensive in the world.
This breed of dog, from Tibet has become well known in recent years for its great beauty and size. And it is considered the most expensive dog in the world because in 2011, a red Tibetan mastiff named Big Splash was sold at the dog show held in the eastern province of Zhejiang, China, for one and a half million euros. And in 2015 a Chinese businessman bought another copy for one million nine hundred thousand euros., as reported by 'Go Banking Rates'.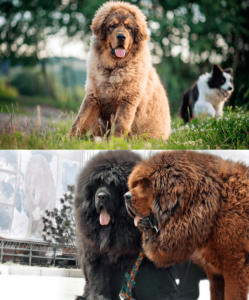 Mr. Lu Liang, who has been dedicated for more than ten years to the breeding of these specimens. Comments that their high cost is due to the fact that they have excellent genes, and are easy to educate. They are also fed chicken, beef and exotic vegetables of the highest quality, and are even given special care, which entails considerably high expenses.
Tibetan Mastiff Origin
The Tibetan Mastiff or Doge of Tibet is one of the oldest races in the world, believed to have already existed since 2000 BC.
It comes precisely from the Asian region of Tibet, where it is popularly known as Drog-Khyi which means nomadic dog. These dogs were used as shepherds and protectors of herds in places like Tibet, Mongolia and India.
They were also used as combat dogs and to guard prisoners by the Assyrians.
At the end of the seventeenth century they arrived in Europe. It is recorded that the first litter of mastiffs of Tibet were born in the year of 1898 in the Berlin Zoo.
Tibetan mastiff personality?
The Tibetan Mastiff is an independent dog, has a reserved character, but is very loyal to his family. By its very nature as a watchdog, it will protect your loved ones and your territory from any threat.
It is a dog that needs total freedom. It needs to walk every day in the countryside or open places. If you are thinking of having a Tibetan Mastiff, you should have an open space, a large plot of land, or a house with a garden.
Features of the Tibetan Mastiff
The Tibetan Mastiff is a giant breed dog, with a strong, heavy body and a straight and muscular back. He has a solemn but kind appearance. An adult and healthy specimen can weigh between 48 to 82 kilograms and have a height between 65 and 75centimetros. While a newborn puppy can weigh between 13-22 ounes. And it will gain about 1-3 pounds per week, during its growth.
It has a wide, heavy and strong head, triangular, medium-sized ears that hang from the top of the skull to eye level. It has a fur formed by a double mantle. The inner fur is bony and woolly and the outer fur is hard and smooth.

There are different colors, for example: there is black, red, gray, brown or a combination of two or more of these colors. There have also been cases of completely white dogs but there have been few
Another very distinctive feature of this breed is its barking, because it resembles more the growl of a lion than a barking dog. This, along with its large size and huge mane. You could mistake it for a real lion.
If after reading this article, you are still interested in acquiring a Tibetan Mastiff. In addition, you have the economic resources and the right conditions, we advise you to look for a good breeder, who specializes in this breed and who is certified before the relevant authorities. Make sure the puppies are socialized from a young age, and demand to know the puppies' parents.